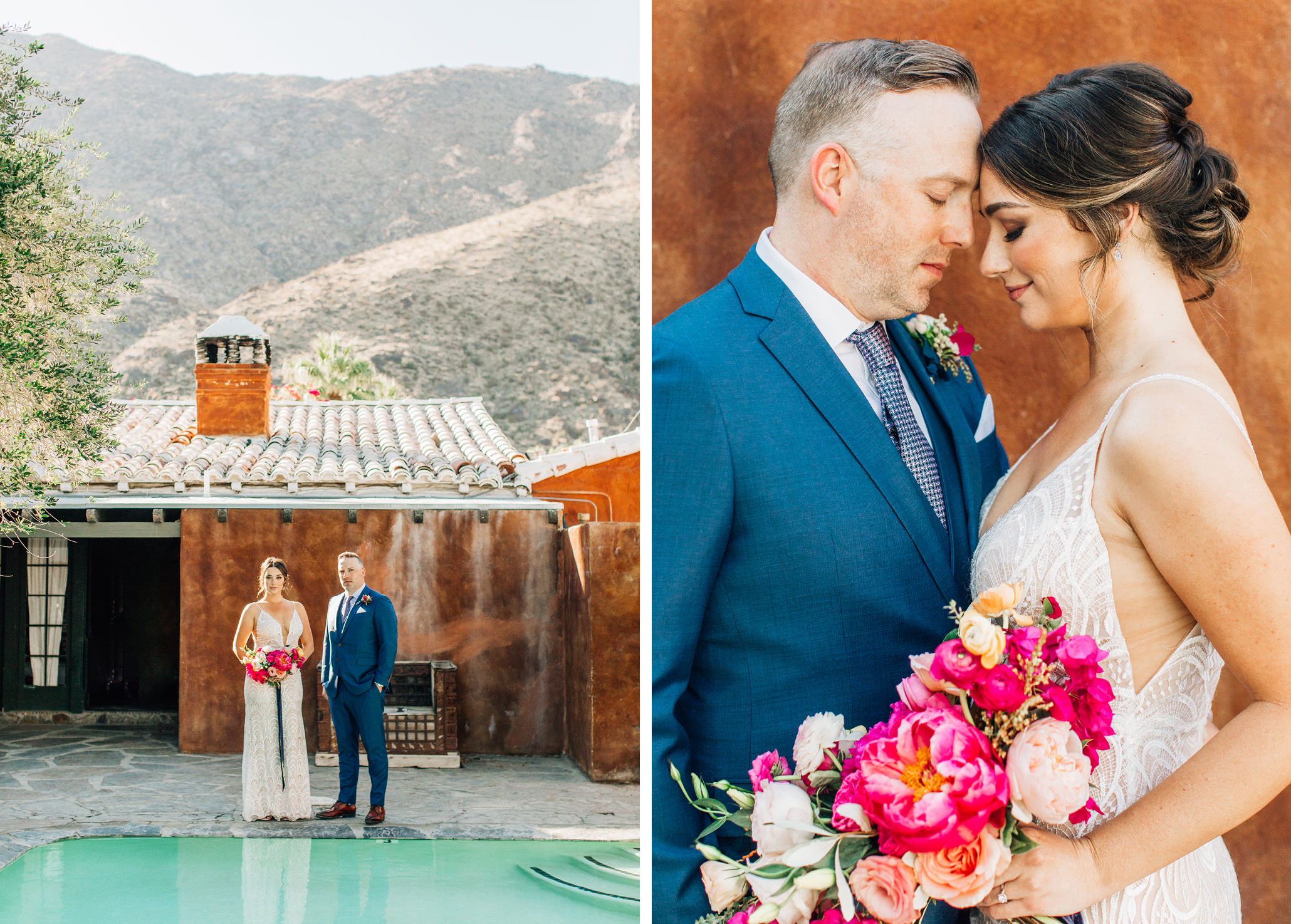 Jenna Bechtholt is a wedding photographer servicing the city of Palm Springs and neighboring communities. Jenna is passionate about creating timeless images that capture the true spirit of a couple's wedding day. Her work is often described as bright, dreamy, and full of emotion. From the look on a father's face while dancing with the bride to the reciting of vows, Jenna documents every important moment that a bride, groom and their family will want to look back on and remember. Furthermore, Jenna is sure to capture the décor, the distinct aspects of the ceremony site and reception venue, and the small details throughout the entire wedding day. Jenna believes in capturing as many elements as she can to properly represent an event, such as the floral wedding boutonnieres and corsages, the table settings, the look of the bar or signature cocktails, and the bridal party's attire. Photographing couples on their wedding day is Jenna's specialty and preferred clientele. She loves to capture the special connection between a bride and groom on their big day and share it with the world.
Contact Jenna Bechtholt Photography to reserve your Palm Springs wedding photographer today!
Palm Springs is a famous city in the Southern California desert just east of Los Angeles located in the Coachella Valley. Surrounded by four different mountain ranges and miles of desert sand, Palm Springs is a sought-after, luxurious destination for weddings and wedding photography due to it's beautiful terrain and renowned resorts. From private estates and classic hotels to modern dining spots and sprawling ranches, the wedding photography Palm Springs offers is sure to appeal to brides looking for a unique and remote destination for their big day. Palm Springs weddings are known for their private venues that offer a cozy, yet glamorous, feel. With many private estates, like the Villa Carmelita, a luxury home ideal for intimate gatherings; the Frederick Lowe Estate, a private venue with amazing mountain views and a lawn big enough for a reception or ceremony site; and the Sand Acre Estate, an Old Hollywood glam inspired home with a large patio and backyard space perfect for an evening reception under the stars, wedding photographers are happy to venture out to Palm Springs in order to photograph amazing events in some of these well-known, stylish venues. The Colony Palms Hotel in Palm Springs is an exclusive location ideal for an indoor wedding rehearsal dinner or small outdoor ceremony. With a charming outdoor bar and pool, this bungalow style setting offers amazing opportunities for Palm Springs wedding photographers to capture special moments during a bride and groom's wedding day. Other high-end hotels, including The Parker Palm Springs, The Ace Hotel, and The Viceroy, are popular wedding locations for the couple that loves a more traditional and elegant feel to their wedding day. These glamorous resorts are hidden by lush, overgrown gardens and bougainvilleas that provide layers of privacy and beauty to the desert land. Wedding photographers in Palm Springs love to document wedding celebrations at locations like these because of the sophisticated and chic feel that these distinguished hotels provide.
In addition to the marvelous hotels and estates, Palm Springs has a rich history that runs through the city and The O'Donnell House is a unique wedding venue that truly celebrates that history. Built in 1925, this historic site lays on a mountainside with an amazing view of the entire town of Palm Springs and the Coachella Valley. With stone flooring outside, vintage Spanish architecture, and large wrap-around balconies, this wedding hot spot is an ideal location to celebrate a marriage and to create jaw dropping Palm Springs wedding photography. Palm Springs is also home to the Smoke Tree Ranch, a large ranch venue with a true essence of desert life. The mountainous views, low growing desert shrubs, and large cactus deliver a real desert feel and make an amazing environment for Palm Springs wedding photography. Downtown Palm Springs is a great location to capture wedding photographs for the couple that appreciates a busier, small town atmosphere. From cute shops and fine restaurants, photographers are able to create modern and interesting wedding photographs using various buildings and backdrops to compliment the bride and groom. But for the bride that wants to get away from it all, a desert wedding held in Joshua tree or next to the Santa Rosa Mountains is a great option for breathtaking wedding photography in Palm Springs. With nothing but miles of sand, desert terrain, and amazing views of the surrounding mountain ranges, a couple is sure to love their unique wedding images captured in the desert of Palm Springs.
Jenna would love to document your upcoming wedding in Palm Springs. Contact Jenna Bechtholt Photography here and book your Palm Springs wedding photographer today!