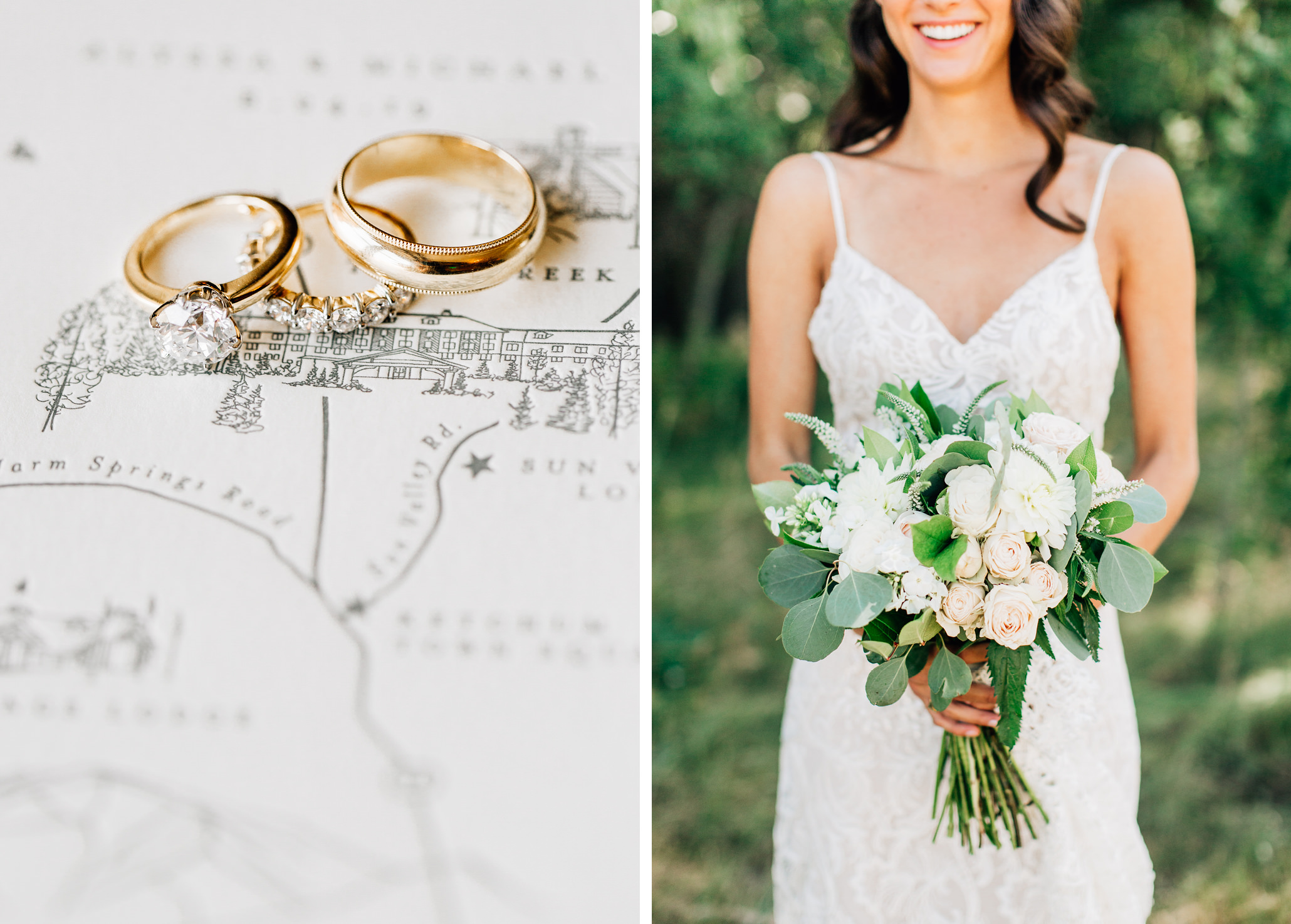 Jenna Bechtholt is a wedding photographer servicing the city of Temecula and other neighboring communities. Jenna's work is most often described as bright, soft, and wildly romantic. She loves to incorporate natural light when photographing a beautiful couple on their wedding day. With bursts of sun flare, back lighting, and dramatic shadowing, Jenna takes advantage of the beauty of natural sunlight to produce stunning Temecula wedding photography that a bride and groom are sure to love. Jenna believes that capturing the small details of a couple's wedding day is of utmost importance. On your wedding day Jenna not only documents the beautiful décor, wedding attire and floral arrangements, but she also pays attention to the special moments and interactions that take place. From a father proudly walking his daughter down the aisle and sending her off with a warm embrace to a grandmother's sweet smile during a couple's first dance, the emotions that are experienced during a wedding are all special and unique moments that Jenna captures on film for her clients to later enjoy. If you are currently planning a wedding in Temecula or another Southern California location, Jenna would love to photograph your big day!
Contact Jenna Bechtholt Photography to book your Temecula wedding photographer today!
From wineries and ranches to private estates and quaint resorts, Temecula's unique terrain allows for Temecula wedding photographers to produce stunning wedding portraits for every bride and groom! This charming small town attracts large amounts of tourist attention as well as destination weddings due to it's many golf courses, vineyards, annual festivals, and stunning historic buildings. Amongst rolling hills lined with rows of grapes and gorgeous sunset views, Temecula photographers love to document as many weddings as they can at the many beautiful wedding venues in Temecula. From Ponte Winery and Villa de Amore to Bel Vino Winery and Gershon Bachus Vitners, Temecula wine country is home to some of the most beautiful wineries in all of Southern California. Wiens Family Cellars is a gorgeous Temecula wedding venue and vineyard that specializes in hosting beautiful indoor and outdoor wedding ceremonies. With lush gardens, a cozy barrel room, and amazing panoramic views of the sprawling Temecula valley, this vineyard is a picturesque setting for a couple looking for an intimate and scenic spot to get married.
While many brides seek out the exquisite wineries within Temecula for their special day, there are many other wonderful locations to celebrate a wedding and capture amazing wedding day photographs in this charming city. The Humphreys Estate is a private estate perfect for a couple looking for privacy with a touch of elegance. This majestic venue sits in the foothills of Temecula and features a raised gazebo surrounded by stone pillars, statues, and colorful gardens. For those that love lake views, Lake Oak Meadows is the perfect spot to tie the knot! With beautiful landscaping and gardens, the nearby lake and lovely fountains are great backdrops for a Temecula wedding photographer to create stunning family portraits on the wedding day. Another fabulous destination for wedding photographers in Temecula, CA to capture breathtaking pictures is Condor's Nest Ranch in Pala. With a classic red barn surrounded by livestock, a glass green house full of flowers, and a classic 1970s style throughout the property, this ranch venue is full of variety and sure to impress guests and family. The Temecula Inn, Temecula City Hall, and Old Town Temecula are classic spots for Temecula wedding photographers to create timeless and beautiful Temecula wedding photography, but for the couple that craves something unique, Grand Tradition Estate is the place to go! With multiple ceremony sites on the property, the Grand Tradition Estate is one of the most popular wedding venues in Temecula. The public gardens is an ideal location for a small gathering that features groomed gardens and expansive grass lawns, where as the Arbor Terrace showcases beautiful tropical plants and a pavilion with fabric draped ceilings. But the most popular ceremony site within the Grand Tradition Estate is the Beverly Mansion, which features striking Victorian era architecture and décor with spectacular lakes views.
Jenna would love to photograph your upcoming wedding. If you are looking for a Temecula wedding photographer contact Jenna Bechtholt Photography to book today!