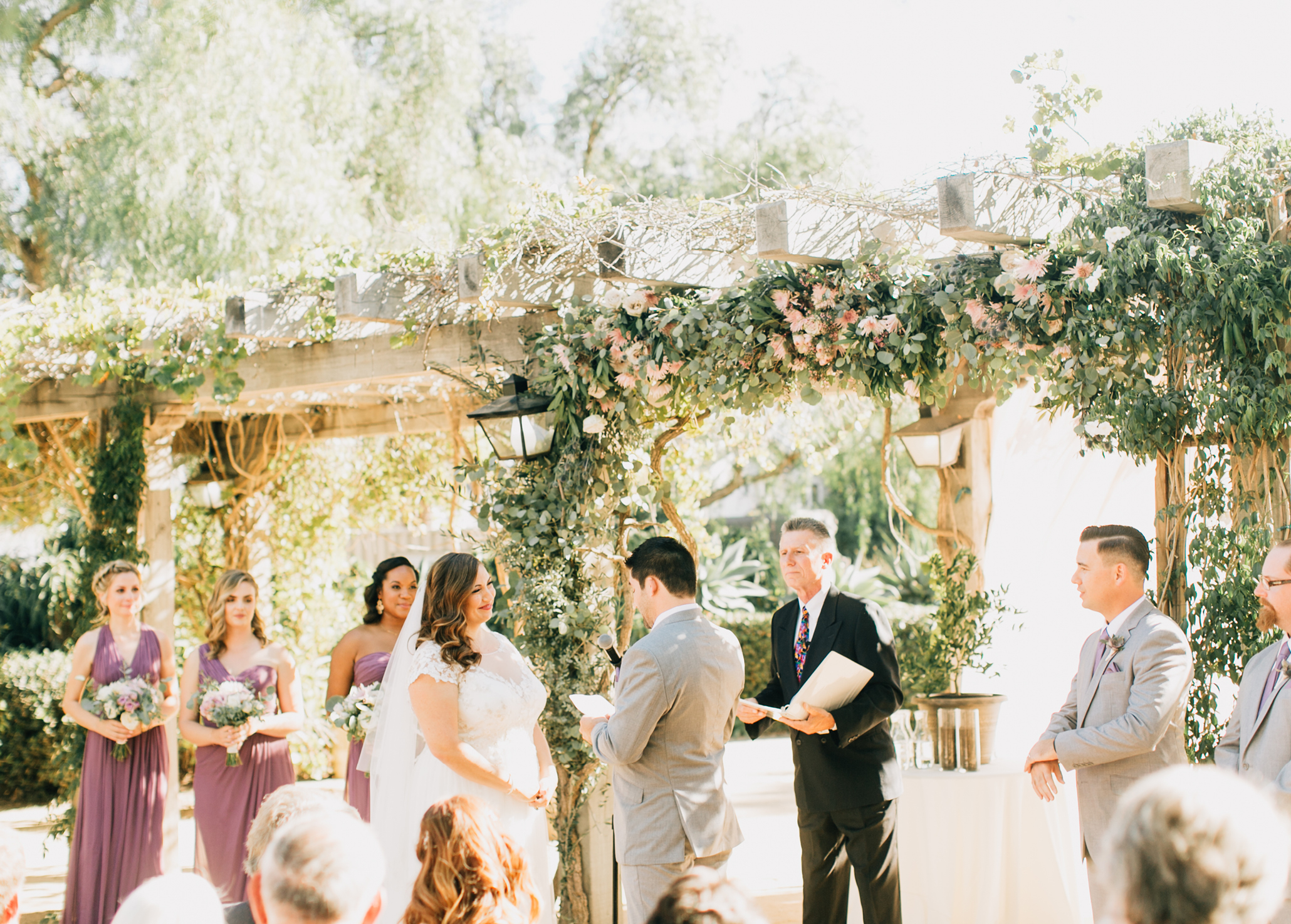 Jenna Bechtholt is a wedding photographer serving Santa Barbara and neighboring cities. Jenna specializes in natural light wedding photography and her work is often described as soft, romantic, and beautifully lit. She likes to eliminate any clutter in an image by using a low aperture, good composition, and focusing solely on the couple she is photographing. Jenna also adds a whimsical element to her work by staging her wedding shoots in the early evening just before the sun sets. With perfect lighting, a hand selected location, and a gorgeous couple, Jenna can create amazing photographs that are sure to leave her clients wanting more! On the day of a wedding she is great at keeping a bride and groom worry-free by capturing every detail of their big day. From small elements, like the bride's hair piece and the groom's bowtie, to big events, like saying "I do" and the first kiss, Jenna makes sure to beautifully and carefully document every moment of a couple's special day. If you are looking for a Santa Barbara wedding photographer contact Jenna Bechtholt Photography and book today!
Santa Barbara is a quaint Southern California city located between Carpinteria and Goleta right along the Pacific coastline. Unlike other larger cities, Santa Barbara's small town feel and a charming physique make it a perfect destination wedding location and any wedding photographer's dream venue. With remarkable Old Spanish architecture, lush community parks, marvelous beaches, and the Santa Ynez mountain range nearby, Santa Barbara wedding photography offers a huge variety of backdrops and scenery for photographers to choose from. With remote venues like the San Ysidro Ranch, a rustic estate with white stone houses nestled into the mountainside, and Villa Sevillano, an Italian villa with groomed gardens and red-tiled rooftops, wedding photographers in Santa Barbara are able to capture a couple's special day in some of the world's most beautiful terrain. Similar locations like the Ojai Valley Inn and Spa, Sunstone Villa, and HeartStone Ranch in Carpinteria are also widely known for their breathtaking, private wedding venues that feature surrounding mountains, open fields, and incredible scenic views overlooking all of Santa Barbara. From Montecito and Mission Canyon to Hope Ranch and Summerland, Santa Barbara County is one of the most visited parts of the nation for incredible destination weddings. For a classic beach venue and high-end experience, Bacara Resort and Spa and the Four Seasons Biltmore Santa Barbara are fabulous locations to host a wedding. With private beaches, spectacular ocean views, and the world-class service of a four star hotel, Santa Barbara wedding photographers are sure to create stunning and powerful images of a couple's wedding day at one of these prestigious resorts. While Santa Barbara is a lovely getaway spot, it is also full of a rich history and is home to the Old Mission Santa Barbara, which is now open for luxurious weddings and events. The Old Mission building is a great focal point for wedding party photography and to give wedding images a real flare of true Santa Barbara culture.
Although Santa Barbara is known for it's beaches and amazing mountainous views, there are wonderful options within its small town to create magical Santa Barbara wedding photography. Simply walking down the ever so popular State Street will lead right to the Granada Theater, an ideal location for couples that are film lovers and true city folks. From the bright lights of the vintage style theater and the dark, romantic interior, Granada is a Santa Barbara wedding photographer's idea of a unique and exciting place for bold wedding day photos. Another spot found right in the heart of Santa Barbara is The Santa Barbara Museum of Natural History, a picturesque classic ranchero style venue with dirt paths and tile fountains perfect for a couple looking for a soft, dreamy feel to their big day. For the bride and groom with simple taste, the Santa Barbara County Courthouse is an amazing location for a wedding ceremony as well as pictures because of the gorgeous exterior of the Spanish Colonial style building. There are also numerous state parks, like Chase Palm Park and Alice Keck Park, where receptions can be held on a grassy lawn or in a garden full of flowers and trees. The natural beauty and wonderful wedding photography Santa Barbara has to offer is sure to make any wedding photographer's job enjoyable and exciting.
Contact Jenna Bechtholt Photography to book your Santa Barbara wedding photographer today! Jenna would love to meet you and capture your beautiful Santa Barbara wedding!