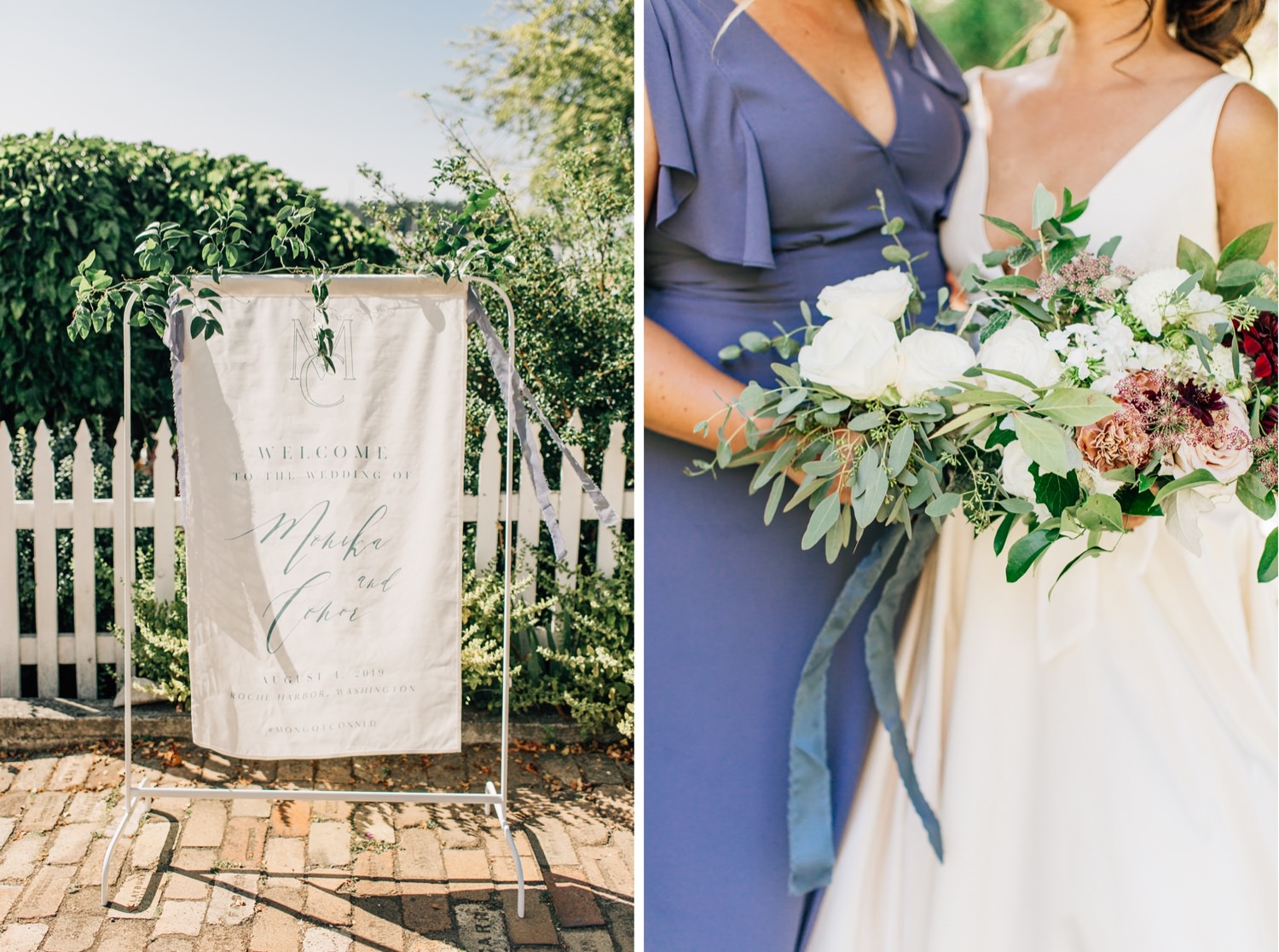 As a San Juan Island wedding photographer, Jenna Bechtholt understands the importance of mixing the simple beauty of island life into any wedding day. Her knowledge of natural light and love of the outdoors is the perfect combination for a stunning island celebration. Jenna takes a photojournalistic approach to weddings and her work is often thought of as bright, airy and beautifully composed. One of her main goals as a wedding photojournalist is to document the day as it naturally unfolds in order to tell the complete story of a bride and groom's special day. Jenna has a great eye for detail and a firm understanding of what most people enjoy looking back on from their wedding. From the cake topper and the bridal bouquet to the first dance and cutting of the cake, Jenna knows that every aspect of a wedding has a lot of thought put into it and it is her job to beautifully document it all!
If you're looking for a wedding photographer to beautifully document your upcoming San Juan Islands wedding contract Jenna HERE to book today!
The San Juan Islands are a chain of islands located in the northwest corner of Washington. Being a popular destination for Seattleites and Canadian locals alike, these islands are rich with culture, history and activities for it's tourists. The small town feel and a charming atmosphere of the various San Juan Islands make them a perfect place for a Seattle destination wedding as well as any wedding photographer's dream location to document such a special event. With remarkable ocean views, lush forests and gardens, marvelous beaches, and all the privacy you could ever need, a San Juan Island wedding allows for a variety of scenery and backdrops to create truly timeless Pacific Northwest wedding photography.
From Orcas Island over to Lopez, there are many charming destinations for an island bride to choose from throughout the San Juans! One of the most frequented San Juan Island wedding venues is Roche Harbor Resort. Placed right along the waterfront with views of the marina, this popular location features a sunken garden, chapel, a private courtyard, seaside lawn, and a gazebo room! Couples are able to create their very own island inspired ceremony and reception with their own preferred details and decor. Other charming venues like Lakedale Resort, a Friday Harbor wedding venue that features a rustic lodge on a lake, and Doe Bay Resort on Orcas Island, a pristine waterfront property ideal for an outdoor Orcas Island wedding, allow photographers to create unique island wedding photography in some of the most beautiful regions in the Pacific Northwest. Similar venues like Deer Harbor Inn, Orcas Hotel, Inn at Ship Bay, and Outlook Inn all feature quaint lodging, ocean views and an abundance of greenery. While most of these venues are wildly popular during the summer, many of the resorts encourage couples to book weddings during the spring and fall! With slightly cooler weather and less tourism, the islands are often more quiet which is ideal for an intimate gathering of close friends and family.
Although San Juan Island weddings are typically associated with charming hotels, there are also more rural and nature inspired areas within the islands for smaller celebrations or even an island elopement. A short drive will place you right at Pelindaba Lavender Farm, a scenic landscape with rows upon rows of fresh lavender. With the forested hills in the distance paired with the beautiful pop of purple from the flowers, Pelindaba Lavender Farm is an ideal spot for dramatic wedding photography on San Juan Island. Another rustic setting found right along the coastline is Lime Kiln Point State Park Lighthouse, a picturesque white washed watchtower sitting right along the rocky shore amongst the wooded uplands. Lastly, the different hiking trails and open fields found all over lend to jaw dropping island wedding photography and an amazing setting for any wedding celebration!
From quaint Inns and lakeside lodges to fields of flowers and rocky shorelines, a San Juan Islands wedding is one you won't forget! Contact Jenna Bechtholt Photography to book your San Juan Island wedding photographer today.