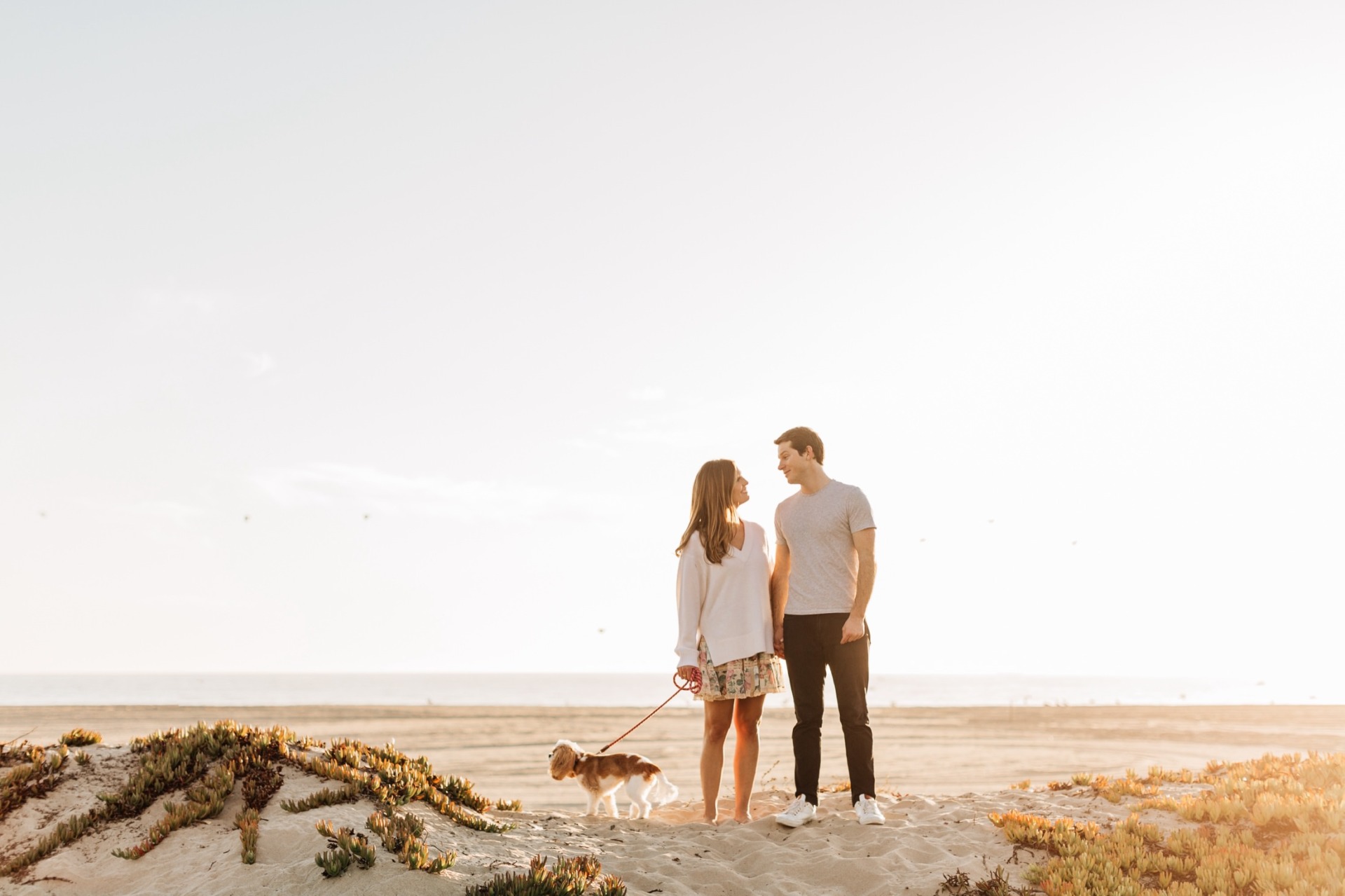 Including your dog in your engagement session can add an extra touch of joy and love to your photos! Dogs are a cherished part of the family, so it's only natural to want to capture their presence during this special time. To ensure a successful and enjoyable session for everyone involved, here are 7 valuable tips to keep in mind when including your dog in your engagement session:
1. Bring a friend: Grab a trusted friend or family member who is familiar with your dog to come along and assist during the shoot. This person can handle your pup's leash, direct their attention, or help with commands, allowing you and your partner to focus on being in front of the camera.
2. Treats: Treats are a fantastic way to reward your dog for their good behavior and cooperation during the session. Bring along their favorite treats as a positive reinforcement tool. You can use them to get their attention, encourage them to look at the camera, or capture their adorable expressions.
3. Take your pup on a long walk: Prior to the engagement session, take your dog on a long walk to help release any pent-up energy they may have. This will help them feel more relaxed and content during the shoot, reducing the chances of them becoming overly excited or restless.
4. Consider collar and leash colors: When selecting your dog's collar and leash, think about how they will appear in the photos. Opt for colors that complement your overall aesthetic and won't distract from the main focus of the session. Neutral or muted tones tend to work well and blend seamlessly with various backgrounds.
5. Plan for playful shots: While posed shots are beautiful, don't forget to incorporate some playful moments into your session. Capture your dog in action, chasing a ball, or interacting with you and your partner. These candid shots can truly reflect the vibrant personality of your furry companion and create heartfelt memories.
6. Bring a favorite toy: Bringing along your dog's favorite toy can be a great way to engage their attention and get them to look at the camera. It can also serve as a source of comfort for them in a new environment, making them feel more at ease and at their natural best.
7. Bring a towel: Dogs can be unpredictable, and outdoor photo sessions may involve unexpected dirt or water. To keep your dog clean and comfortable throughout the shoot, bring a towel that can be used to wipe them down if they get dirty or wet. This will help ensure that your four-legged friend looks their best in the photos.
By following these tips, you can include your dog in your engagement session seamlessly and capture beautiful moments that truly reflect the love and bond within your family. Remember to communicate your expectations and share any specifics about your pup with your photographer in advance so we can plan accordingly and help create stunning images with your dog!
And while you continue to plan for your photo shoot with your pup, here is a sunset session on the beach in Santa Monica with Catherine, Mark, & their adorable fur baby!